"I love this album. My faves are Full Moon Rising, Firefly and Open The Gate….I like the contralto element in her voice." – Don Walker.
"I've had the great pleasure of being in Paula Punch's orbit for 20 years. It's rare to see someone's artistic gift not only survive that period of time but to grow and flourish.
Her songs and voice demonstrate that incredible journey in the most compelling way." – Matt Fell.
And fan comments include:
"… if Debbie Harry went country" – Dave Hay
"Fabulous – each one so unique – I can't pick a favourite – a touch of Pretenders on some and Shawn Colvin on others. The strings are beautiful and each track took me on a musical journey. Congratulations – you all really knocked it outa the park! " – Bridget O'Donoghue.
Rhythm Magazine Article October 2021 Issue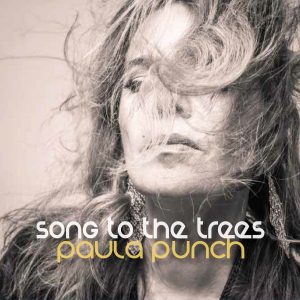 SONG TO THE TREES
In another age, an album like Song to the Trees positively bursting with superbly crafted songs perfectly produced would not only have gained solid mainstream airplay but would have been released by a major label. So, it's doubly impressive that Sydney singersongwriter Paula Punch should have recorded and released it entirely independently. But then, she's had a little help from some pretty impressive friends.
"I've left it a bit late in life to really focus on it," she admits of her songwriting, "because I've had to bring up a family, but I just love it so much. I always sang and there was always this push for me to go into classical music, into opera, because I had a strong mezzo soprano sort of voice when I was young, and I was in the Philharmonic Motet Choir, but I always loved the artists like Linda Ronstadt and Janis Ian and The Pretenders though I didn't have confidence in my voice in that regard."
All that changed after Paula met her future husband, recording engineer and producer Phil Punch. "I was going to do a demo thinking I might start to get some session singing – I needed to get some money on the side – and went up to Honeyfarm Studios in Terrey Hills. I did some demos and just fell in love with the studio. That really started a partnership with my husband which has lasted many years. After I started really getting into more folk rock pop, my classical side drifted away. Even though I'd written poetry I didn't really start writing my own songs until I started having my own family." The song 'Tender Moment' on the album comes directly from her experience as a mother to two young boys.
Along the way, without realising it, Paula was learning the craft of recording and producing courtesy the recordings her husband would bring home, playing her his day's work and bouncing ideas off her, asking her opinion. "I was lucky enough to meet a lot of great artists who recorded in the studio, and one was Ed Kuepper. He spent some time showing me some great open-tuning chords. He really loved the songs that I was starting to write and he got me to support him at some of his shows." In fact, Paula ended up contributing backing vocals to Kuepper's 1992 Black Ticket Day and 1993's The Butterfly Net albums. She also contributed to Hans Poulsen's 1997 Wonderchild's In Town album.
For all that, it wasn't until she finally finished her fulltime job and her boys had grown about six years ago that Paula was able to focus on her creative side. She then assembled The Fireflys – keyboards player and accordionist Marko Simec (ex-Waiting for Guinness), drummer Reuben Alexander from The Liz Martin Band and Melody Pool, bass player Mike Rix, who features on the album but logistics have seen him step aside for Andy Newman and the most important component in terms of how Paula finally became a recording artist in her own right, guitarist Robin Gist.
"He was with a band called Girl Overboard with [the late] singer Lisa Schouw," she explains. "He and Lisa were very encouraging to me for many years. He would invite me over to their place every Tuesday to record songs to see where they would go, and that became the first album [2018's Don't Look Down], which was recorded in his lounge room. Then [husband] Philip started weighing in, which was ironic."
The result of that was that Paula got to record Song to the Trees in the fully professional Electric Avenue Studios with Gist and Punch coproducing. "Marko Simec had some great thoughts on a couple of songs which I then put him as coproducer on because he just added so much to them."
Like all the best songwriters, Paula follows the spirit of the song rather than try to push them into any particular direction or genre, so there's a nice diversity across Song of the Trees – there's even a nod to that most French of genres, the chanson, in opening track 'Lost at Sea'.
"That one I wrote straight after seeing a friend of mine Liz Martin. She does three sets and the first set is full of songs that have that Euro-folk feeling and I just love that. I hadn't really heard anything like that for a while and I think it just permeated me and went home and wrote it straightaway! I texted her and said, 'I've got a song for you if you're interested,' and she said, 'No, no, no, you do it.' And that's why it's quite different to any of the other songs, I think. And though Robin wasn't quite convinced about 'Coming Round', I added it to the album for balance. I didn't want it to be too sombre, too melancholic, to add a little fun in there."
The first single lifted off the album, 'Full Moon Rising', reached #4 on the AMRAP Metro chart. Since Gist, who gets a chance to unleash his inner "rock guitarist" on 'Coming Round', is committed to a variety of recording projects, when lockdown hopefully allows Paula Punch & The Fireflys to tour the album through September, his place will be ably filled by guitarist Paul Berton.
Discography & Performance Highlights
2021 Album "Song to the Trees"
2021 3 x Singles from Album
2020 Single "Fire in the Hull"
2019 EP "Lost Horizon Sessions"
2019 Singles "Move Over"
2018 Album "Don't Look Down"
2018 Singles  "Tonight", "Holy Water" & "Departure Lounge"
2017 Singles "Steer My Boat" & "Run & Hide" plus 7 Singles from upcoming 2018 Album
2017-2021 Django at Camelot & Gasoline Pony performances with special guests including Tate Sheridan, Abi Tucker, Marvellous Hearts & My Sauce Good plus many others.
2019 Camelot Lounge Performances Opening for Russell Morris, Renee Geyer & Karise Eden.
2018 Californian West Coast Tour with Nashville/NZ Singer-Songwriter Jackie Bristow.